Took a weekend off after 2 months and guess where I headed? Kithulgala! one of the best places in the world for White Water Rafting. I have never done WWR before and it was an amazing amazing experience. I was in the front left side and it was very thrilling to go into rapids and was a nice experience. If someone is hoping to visit Sri Lanka, definitely a nice place to visit to.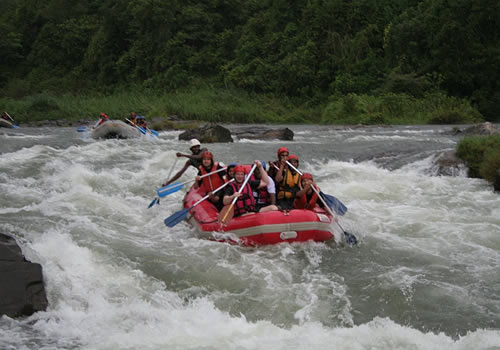 This is not a picture of me and my friends, Just to show how Kithulgala looks like.
Now this is a picture of us in the water. I am at the front left :)
Then spent some quality time with my batch mates at Miyora Hotel in Kithulgala. Certainly was a great experience after a long time.
That being said I was busy doing some modifications to the Openmrs Module Administration page based on the feedback I got from my mentor and the rest of the community after the second and final presentation.
One major change requested was displaying all the modules in the module repository search area and reducing the modules based on the search. Currently the repository search uses an AJAX based Jquery Data table but I had to change it to a Javascript Array based Jquery Data table to work correctly.
Apart from that some more minor changes were also done to module administration page.
Currently working on polishing up the User Interface and documentation.
Hoping to carry on the good work, hope god will be with me as always.